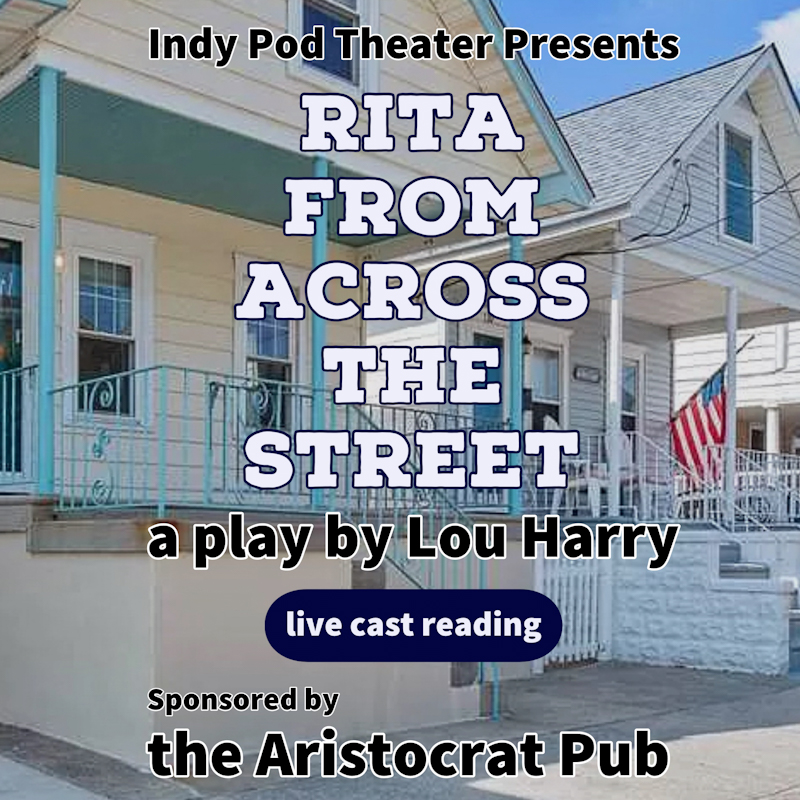 Indy Pod Theater, a podcast dedicated to presenting, preserving, and sharing the work of Indiana playwrights and actors offers its debut production:  "Rita from Across the Street" by Lou Harry.
About "Rita from Across the Street":
Set in a New Jersey seaside town, this gentle comedy / drama focuses on a former boardwalk business owner who cares for his troubled brother while forging connections with the family that moves in next door for the summer. As weeks pass, secrets are revealed, the merits of front vs. back porches are debated, and lives are awakened. "Rita From Across the Street" has been workshopped in Indianapolis and presented as a reading in New York City.
The Cast:
Donna: Jenni White
Mark: Clay Mabbitt
Connie: Kelsey Leigh Miller
Rose: Lexy Weixel
Narrator / Joey: John Thomas
"Rita from Across the Street" was recorded before a live audience at the Aristocrat Pub & Restaurant, November 17, 2019. This episode contains explicit language.
Indy Pod Theater warmly thanks the following for generously supporting this endeavor:
The Aristocrat Pub & Restaurant, (5212 N. College Ave. in Indy)S for graciously hosting us and providing consistently excellent food and service to our audience. Learn more about the Aristocrat here: https://aristocratpub.com/
Our live audience, whose moral support (and ticket purchases) keep us going.
Cara Jean Wahlers for permitting us to use a segment of her song "Chinatown" as our theme music.  For more information about Cara, see: http://musicalfamilytree.com/band/cara_jean_wahlers
About Indy Pod Theater:
Works by Indiana playwrights gain a new platform with Indy Pod Theater, quarterly script-in-hand play readings recorded for podcast before a live audience. Produced by the creators of the Lou Harry Gets Real podcast and the SiteLines Indy play-reading series, Indy Pod Theater features professional actors reading scripts submitted by playwrights and chosen by an independent panel.
For more information on Indy Pod Theater, email indypodtheater@gmail.com